Regular price
Rs. 1,100.00
Sale price
Rs. 599.00
Unit price
per
Sale
Sold out
Product Name: Reusable Magic Water Quick Dry Book (Multi Color, 4 Books) (Multi Color, 4 Books)
Package Contains: 4 Magic Book , Material: Others, Color: Colour as per availability Weight: 100gm
😍Our Customers are loving these Books !😍
Endless painting fun for your little one!

A fun, educational activity
Let your kid explore their aesthetic side with this fun educational toy magic water drawing book! Engage in cute parent-child activity and help your kid get better as they draw.
FEATURES
Easily Reusable: No need to get new drawing books every now and then, as this one is reusable. As soon as your kid draws, the colors are vivid and beautiful but the colored areas disappear as soon as it dries out. So, the pages can be colored over and over again.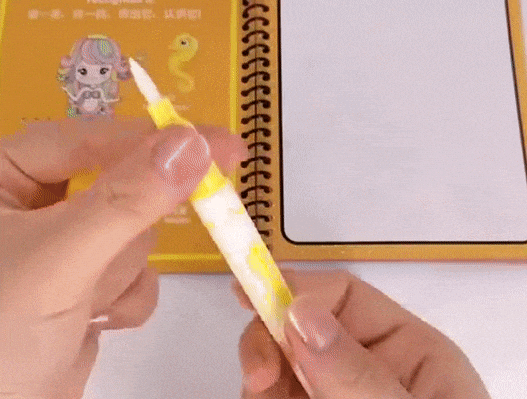 Extremely productive: A great way to develop your kid's observation ability, color perception and teach them about animals. Lots of knowledge to be learned while having lots of fun!
Compact and convenient: Due to its compact size, the drawing book can also be taken out today trips so kids can draw wherever they want!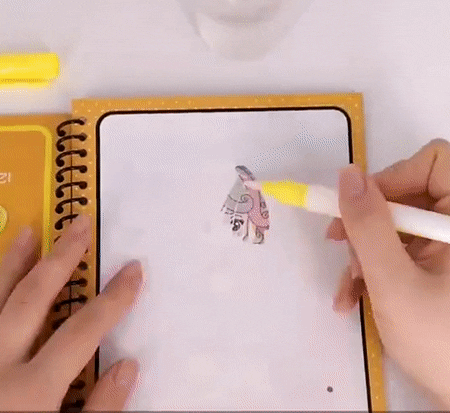 Boost Skills Through Experiential Learning!
Specifications
Style: Underwater World, Animal, Traffic Tool, Dinosaur World, Happy Holidays, Cakes, Numbers, Letters

Material: Paper

Age: All years old

Book size: 18.3*14.8cm/7.20*5.83in

Pen size: 11.3 cm/4.45in
Package includes:
4*Magical Water Drawing Book 

4* Magic Water Pens
How to use the water brush pen?
Open the pen tip by rotating it clockwise
Fill it with water
Close the pen tip
Draw on the water album
NOTE
Please allow slight measuring deviation due to manual measurement.


Due to the different monitor and light effect, the actual color of the item might be slightly different from the color showed on the pictures.
Click 
ADD TO CART 
to 
Order Yours Now! 
OUR
 

GUARANTEE
Don't like something you bought? Tell us within 5 days of receiving it, and we'll be happy to issue a refund. For more information see our Refund Policy page. Or, click here to make a return request. 
Secure credit card and debit card checkout with PAYTM with no extra shipping charges. 
5 days easy full money-back guarantee.
Tracking number for every order sent directly to your phone number and email address.
About this item
Reusable drawing board,once you color,the pictures are very vivid and colorful.As soon as they dry the colored areas disappear and the pages can be colored again and again
This drawing book gives you a chance to bond with your baby, a warm moment together. At the same time, it is an promotion fine motor skills, like early writing skills, drawing skills and visual discrimination.
Chunky-size water pen is easy to fill, easy to hold. Great fun for your baby and child
Are you tired of wasting paper and resources while exploring your artistic side? Look no further! Our innovative Reusable Drawing Board is here to revolutionize your drawing experience. Get ready to embark on a journey of endless creativity, without any waste or mess.
🌈 Unleash Your Creativity with Vivid Colors! 🎨
Experience the wonder of endless creativity with the MagicalReveal™ Reusable Drawing Board! This revolutionary drawing board is designed to bring your imagination to life with its vibrant and captivating colors.
🌟 Features 🌟 ✨ Vivid and Colorful: Watch your drawings come to life with stunning and vivid colors that pop off the page! ✨ Endless Fun: Color, explore, and create to your heart's content. Once the ink dries, the colors disappear like magic, giving you a blank canvas to start anew. ✨ Mess-Free: Say goodbye to messy paints and markers. The MagicalReveal™ board uses a special water-based ink that's easily activated with the included water brush. ✨ Eco-Friendly: Contribute to a greener planet with our reusable drawing board. No more wasted paper or resources. ✨ Compact and Portable: Take your creativity anywhere! The lightweight and compact design makes it perfect for car rides, plane trips, or quiet afternoons at home. ✨ Perfect for All Ages: Whether you're a budding artist or simply looking for a relaxing way to unwind, MagicalReveal™ is suitable for everyone.
Get ready to embark on a journey of imagination and wonder. Turn every page into a masterpiece with the MagicalReveal™ Reusable Drawing Board!
How It Works
🎨 Create, Reveal, Repeat! 🎨
Step 1: Color with Ease 🖌️ Use the water brush to apply the water-based ink onto the drawing board. Watch as the vibrant colors effortlessly flow onto the page, letting your creativity run wild.
Step 2: Enjoy Your Creation 🌟 Marvel at your masterpiece as the colors come to life before your eyes. Each stroke is vivid and captivating, capturing the essence of your imagination.
Step 3: Witness the Magic 🪄 As the ink dries, the colors fade away, leaving a clean slate ready for your next masterpiece. It's like having an endless canvas at your fingertips!
Step 4: Explore Limitless Creativity ✨ With the ability to create, reveal, and repeat, there's no end to the creative possibilities. Experiment with different color combinations, designs, and ideas without worrying about wasting paper.
Page 3: Why Choose MagicalReveal™
🌟 Experience the Magic of Reusability 🌟
🔥 Ditch Disposable Art Supplies: Traditional coloring books and single-use art materials contribute to unnecessary waste. With MagicalReveal™, you'll join the movement toward sustainable creativity.
🔥 Inspire Learning and Exploration: Encourage the little ones in your life to explore their artistic side without any limitations. MagicalReveal™ promotes imaginative play and cognitive development.
🔥 Create Memories: Whether it's a quiet afternoon alone or a fun family activity, MagicalReveal™ helps you create lasting memories through shared creativity and laughter.
🔥 Gift of Endless Possibilities: Searching for the perfect gift? Look no further! Give the gift of limitless creativity with the MagicalReveal™ Reusable Drawing Board. It's perfect for birthdays, holidays, and any occasion.
Unleash your inner artist, reduce waste, and let your imagination flourish with the MagicalReveal™ Reusable Drawing Board. Get yours today and experience the enchantment of vibrant, disappearing colors!
Share
View full details